The Dilemma of Cru Bourgeois in China
2016-12-27 17:55
WBO Global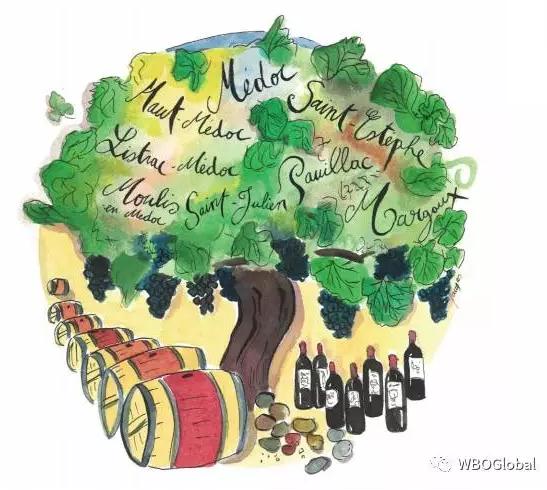 Photo Credit: www.crus-bourgeois.com
Cru Bourgeois priced around or under CNY 100 (€13.77) are common in China wine market in recent two years. This situation hurt traditional fine wine merchants for earning very low or no profit after prevailing for a short period, which made Cru Bourgeois with comparatively higher quality and price to be left out of the market.
How to cope with CB problems under such situation?
"It's really hard to sell. Our Cru Bourgeois were priced at CNY 300 (€41.26) in retail and CNY 200(€27.51) in wholesale. Sales have been good for years with our brand building and professional support, but distributors' complaint lodged out this year for they regarded the amount CNY 200 (€27.51) as the reasonable retail price, which led to the slump in our Cru Bourgeois annual sales." A merchant in Shanghai poured out his woes to WBO reporter, running various French fine wines, "How could I sell our AOC wines priced at CNY150-200 (€20.63 -27.51) and VDF wines priced at CNY 100 (€13.75) if I set Cru Bourgeois at the same price level with them?"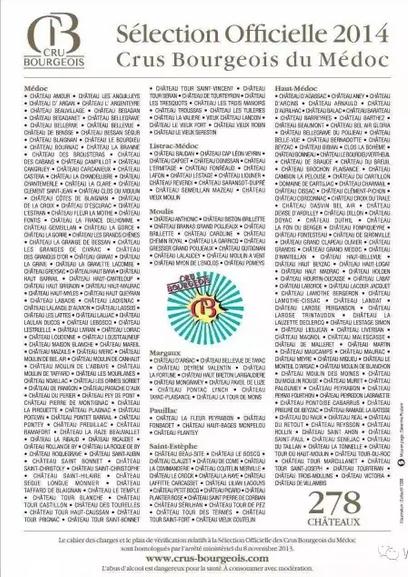 Photo Credit: www.crus-bourgeois.com
Retail price of Cru Bourgeois reached up to CNY 500-600 (€68.77-82.53) years before, some were deemed to be fake wines when selling at low price. But WBO reporter took a survey on Auchan in Chengdu this year and found that the cheapest Cru Bourgeois there are priced at CNY 198 (€27.24).
"The same situation happened in Shanghai Auchan too. It's not that easy for distributors to tell excellent from common ones, Cru Bourgeois are considered to be the same then anyone who selling excellent ones hurts in such situation." The merchant told WBO. As far as we know, his sales in Cru Bourgeois improved obviously after cutting 25% down in its retail price.
Cru Bourgeois was abandoned by merchants in some second-tier cities
It's either embarrassing in China coastal areas or in inland areas. Yu Jun, a merchant in Chengdu mainly focus on group purchase, told WBO, "Cru Bourgeois were suffering from price transparency by China E-commerce, many online sellers usually import Cru Bourgeois at the trade price of CNY 50-60 (€6.88-8.25) which are comparatively lower in quality while sold at extremely low price of CNY 100 (€13.75)."
In fact, when WBO reporter typed "Cru Bourgeois" on the searching page of JD.com, he found that the best sellers were Chateau Saint-Christoly 2009 and Chateau Moulin De Belair 2013, which were priced at CNY 109 (€14.99) and CNY 69 (€9.49) respectively. Compared to the retail price of CNY150-250 (€20.63-34.38) last year, it sucks a lot this year.


Photo Credit: JD.com
"The most awkward thing is that there actually are quality Cru Bourgeois in Bordeaux, but many distributors are keen on low priced ones. It's just like the behavior of putting the cart before the horse." As Fang Yi, general manager of Puyi Fine Wines in Changsha, put it.

Let CB be the appealing product !
However, Zhao Guoren, president of Jilin SOHO Commerce & Trading company didn't take it as a bad deal, "Vintners concerned more about low priced Cru Bourgeois, because they knew most CB has met the taste of middle class whose consumption level is just between Grand Cru Classé and AOC. Such CB will probably be the appealing product."
Zhao has imported CB for more than 10 containers from 2012 to 2016. His directly selling to malls and supermarkets has greatly shortened the supply chain, which eventually led to the win-win results. Those Cru Bourgeois are popular in retail channel with a price of CNY 100 (€13.75).
To solve the downturn problem, Fang would rather sell his Cru Bourgeois with profit cut down. After all, to buy or not to buy, it's consumers' own choice. He believes there is still market space for Cru Bourgeois under China consumers' recognition.
When consumers don't buy it, even high-profit will lead to distributors' final frustration somehow.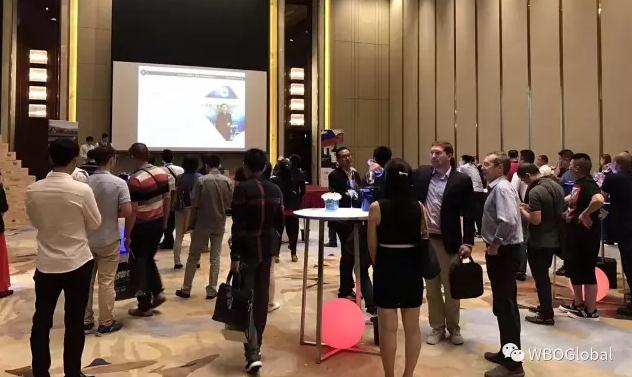 Photo Credit: a CB tasting event in China
If the article wins your recognition, don't hesitate to share it to more wineries and vintners.