Penfolds Bin407 rose by 13%, Bin389 by 8% in some China regions
2017-09-26 09:23
WBO GLOBAL
Write | WBO Team Translate and Edit | WBO Kiwi
Penfolds in the Australia, New Zealand, China and other regions has raised prices recently, with an average increase of about 15%.
Profit margin has been already very low for Penfolds agents and distributors in China. What will they react towards the yearly price adjustment?

Penfolds has raised its price in Australia and New Zealand from September
WBO received an announcement of price adjustment by TWE issued in Australia and New Zealand markets. According to this announcement, Penfolds showed its price list upgrade and took effect from 1 September 2017.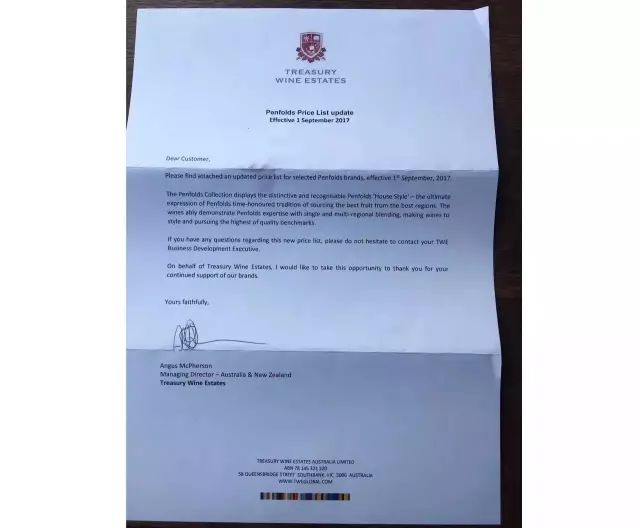 Photo credit:TWE
Cherry Zhang, one of the executives in Penfolds, confirmed to WBO, "TWE did raise the wholesale price of Penfolds Collection, with an increase rate of 15%."
"The same as in China, Penfolds is in short supply every year in both Australia and New Zealand markets.But the main problem is that China's demands are too large and quota in New Zealand and Australia is insufficient",Cherry Zhang pointed out.
"At present, Penfolds has the largest quota in Asia, followed by North America. Some portion of Penfolds has flowed into China by parallel imports, resulting in more severe tension in supply and demand." Cherry Zhang added, "Starting from TWE setting office in Shanghai, price of Penfolds Collection in Australia and New Zealand goes up every year, and increase by 15% or more." But according to her analysis, parallel imported Penfolds still has profit margins in China.
How will the situation go?
"Penfolds price increases in range of 10-15% this year, in fact, Penfolds raises price in each fiscal year of TWE, we have long been used to this phenomenon", said one Penfolds importer.
As for reasons of the annual increase, he analyzed: It's quite normal that people seek higher profit by selling popular wines. This helps in fighting against cross region sale, and consumers tend to buy up not buy down.
"The key is that the Penfolds owner TWE hope to build brand value, who mainly achieves this in two ways: the first is controlling the quota and making them in short supply, and the second is keeping prices firmly." said the importer.
But according to WBO, TWE will make price upgrade adjustment for different regions, time and volume for orders.
Another Penfolds importer based in eastern China was informed of price increase too. Price of Penfolds has gone up by minimum of 3% and maximum of 23%.
Penfolds Bin407 rose by 13% and Bin389 by 8%, whereas Penfolds Grange seemed more stable. After TWE build its warehouse in China, importers will no longer get subsidies in their own regions and the cost may increase at that time either.
"I haven't heard that distributors joined together to fight against price upgrade yet, due to its popularity and limited quota in China market", revealed an importer.
However, two distributors in this interview said they will not take Penfolds as their first-promoted product among all brands.
Guo Haibin, one of Penfolds early distributors, told WBO, his main concentration has transferred to other products instead of Penfolds, because of low profits and high risk of fake and smuggled bottles.
Another importer Xu Xiaotong is waiting for big sales or not bundle sales.
Will consumers pay about CNY700 for Bin407 ?
In Tmall shop, Penfolds Bin389 and Bin407 sell at CNY568 (€72 ) and CNY628 (€79.66 ).
If Bin389 rose by 8%, its retail price may rise to CNY600 (€76.11 ), if Bin407 increased by 13%, its retail price will adjust to about CNY700(€88.8 ).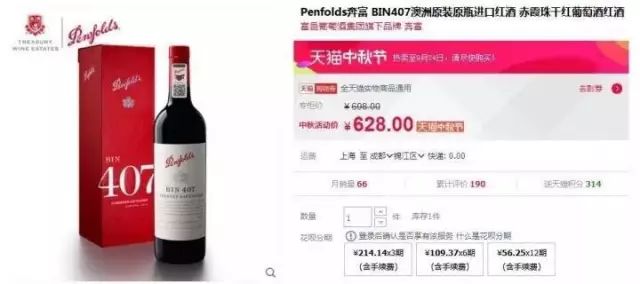 Photo credit:Tmall.com
Due to the growth rate, online price of Penfolds Bin389 is plan to reach CNY 600 (€76.11) next year. But in JD.com, Chateau La Tour Carnet (Fourth Growth of Grand Cru Classe 1855) and Chateau Ferriere (Third Growth), is just sold at CNY285(€36.15 ) and CNY439(€55.69) respectly.
Limited capacity and large market demand
Tommy Tse, PR & Brand Communication Manager of TWE, has confirmed to WBO, "Penfolds adjusts prices every year because of market demand and output changes, some adjustments are for new vintage."
"Since producing capacity of our hot wines such as Penfolds Bin389 and Bin407 are limited, price increase is entirely based on supply-demand relationship and production costs. "
But for other entry-level series or series with larger volume under Penfolds, we will not make any change or only minor adjustment, according to TWE officials.
"Penfolds, like many luxury wine brands, is not just affected by one single factor, but by integrated factors", said Tommy.