Learn from Cultural Marketing of French Wine Regions
2018-06-05 09:32
WBO Global
Write | WBO Team
Translate and Edit | WBO Kiwi
In recent media reports, a number of Chinese cultural celebrities, including actor Guoli Zhang were awarded by Jurade de Saint-Emilion in the ceremony held in China National Stadium.
Several French wine regions have such honor award ceremonies
Apart from this, WBO found that before the opening of VINEXPO in May 29th, Jurade de Saint-Emilion also held an honor award ceremony at the Grand Hyatt Hong Kong, and several Chinese vintners were awarded such honor.
Saint-Emilion is located on the right bank of the Garonne River in Bordeaux, France. The members of "Jurade de Saint-Emilion" are known as "Jurat", and they are scattered around the world as the promotion ambassadors of St. Emilion wines, including the celebrities, such as the Russian President Putin and the prince of Monaco, Albert II.
Jurade de Saint-Emilion is just one prime example, the same kind of ceremony happened in other wine regions of France too. During the Bordeaux VINEXPO in June last year, Commanderie du Bontemps de Medoc, des Graves, de Sauternes et de Barsac, also give Chinese vintners honors in France.
Other wine regions of France, such as Burgundy, Cognac, and Armagnac, also have consumer opinion leaders and wine dealers in China or Asia.
Not only exporting wines, but also delivering wine culture
The report points out that in order to attract China market, St. Emilion has been awarded to many Chinese celebrities in recent years.
"China has become the largest market for Bordeaux wine. This is a huge potential consumption group", said Jean-Francois Galhaud, chairman of Conseil des Vins de St-Emilion.
Some vintners believe that this kind of event is very pertinent and effective, targeting at Chinese celebrities and vintners, which exert influence on business side and consumer side, plus with the strong sense of ceremony, which has played a subtle educational role for China market."
"This is part of the cultural marketing of the French wine industry. Vintners seldom been awarded by New World wine regions.
In fact, honors awards ceremony in France does not cost much, but it gives emotional input to Chinese vintners", a wine importer analyzed.
"The candidate is generally recommended by the local wineries or negociants in Bordeaux to the local wine associations, and their first choice is of course the Chinese importers who have a strategic partnership with them," said Mr. Lin, a Chinese importer who was awarded the honor 5 years ago, "And the cost of the gala dinner is paid by local wineries or negociants."
What's more interesting? In the past, similar ceremonies were held in France, however today, this kind of honors ceremony has been transformed into a global tour activity, and the purpose of promotion and public relations is even stronger.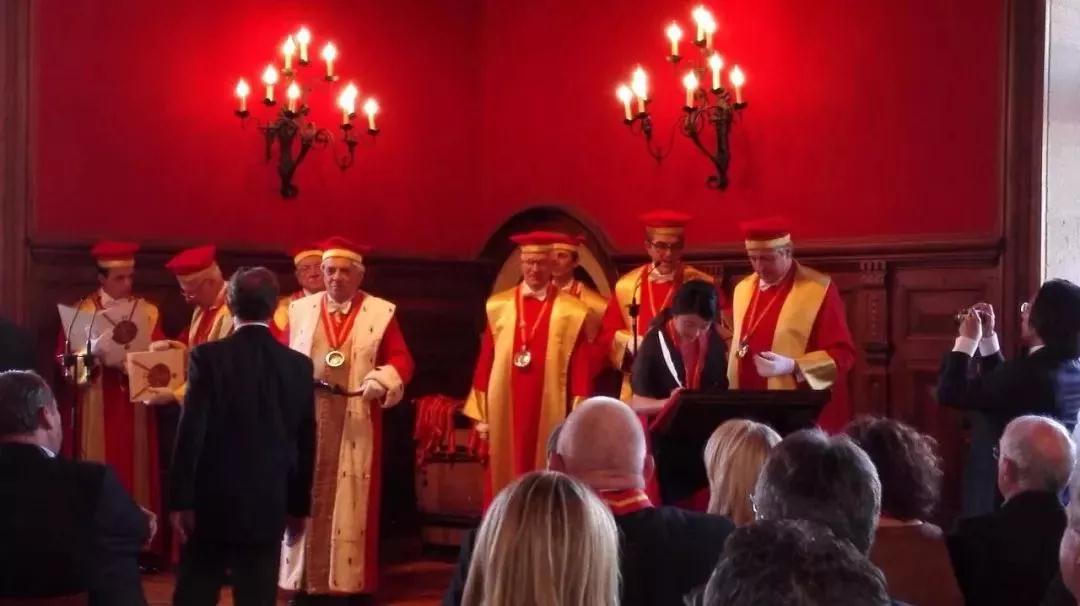 Beware of overuse
Although the honors have a sense of ritual, certain wineries have used this kind of marketing too much.
A few years ago, WBO reporter visited a Bordeaux wine group, and the winery also held a ceremony to give a collective honor to the Chinese importers and media visitors, put on red robe, taking group pictures and awarded with certificates.
The organizers explain to WBO: Many Bordeaux wine associations and wineries have the rights to award importers, the influence is the only difference.
Such ceremony held by authoritative associations can be understood as promoting local wine culture, and to improve global market influence of the region. But when in the over use of it, this will lose its own value and looks like game, which eliminate its real sense.